Love is a beautiful and exhilarating feeling that deserves to be celebrated and cherished. What better way to do so than by embarking on a romantic getaway with your significant other? Whether you are seeking a peaceful escape, a captivating hideaway, an adventurous retreat, or simply a breathtaking setting to unleash your passion, there are countless destinations around the world that offer the perfect backdrop for your love story. Join us as we explore some unforgettable destinations for couples, guaranteed to ignite the spark and create lasting memories.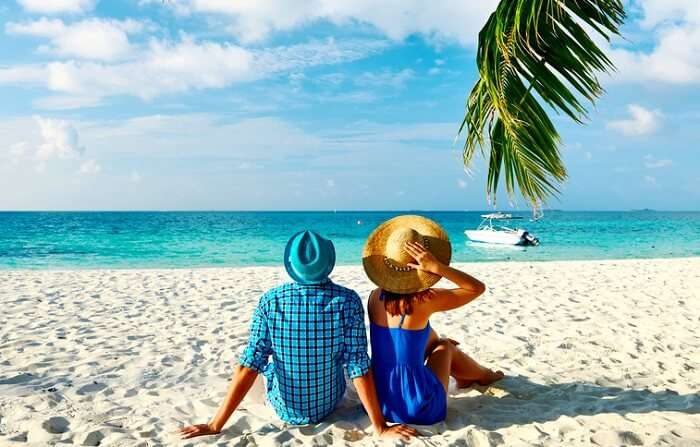 Love is in the Air: Enchanting Escapes for Couples
Paris, France: Known as the City of Love, Paris is the epitome of romance. Stroll hand in hand along the Seine River, marvel at the iconic Eiffel Tower, and indulge in delicious cuisine in cozy cafes. With its charming streets, stunning architecture, and captivating ambiance, Paris is a city that will truly sweep you off your feet.

Santorini, Greece: Santorini, with its stunning sunsets and breathtaking views of the Aegean Sea, is a dream destination for couples. Explore the picturesque towns of Oia and Fira, relax on the pristine beaches, and enjoy a romantic dinner overlooking the caldera. The magical atmosphere of Santorini is sure to create unforgettable memories.

Venice, Italy: Venice, with its winding canals and gondola rides, is the perfect setting for a romantic escape. Lose yourself in the maze-like streets, visit St. Mark's Square, and take a gondola ride under the famous Bridge of Sighs. Venice's timeless beauty and enchanting atmosphere make it a top choice for couples.

Bora Bora, French Polynesia: If you're looking for a tropical paradise, Bora Bora is the ultimate destination. Stay in luxurious overwater bungalows, swim in turquoise lagoons, and indulge in spa treatments for couples. With its pristine beaches and crystal-clear waters, Bora Bora offers a romantic getaway like no other.

Kyoto, Japan: Kyoto's serene temples, traditional gardens, and cherry blossoms create an idyllic setting for couples. Take a romantic stroll through the Arashiyama Bamboo Grove, visit the Kinkaku-ji Golden Pavilion, and experience a traditional tea ceremony. Kyoto's rich history and peaceful atmosphere make it a perfect destination for couples seeking tranquility.
Captivating Hideaways: Exquisite Destinations for Lovers
Sedona, Arizona: Nestled in the stunning red rock formations of Arizona, Sedona is a hidden gem for couples seeking a romantic escape. Enjoy breathtaking hikes through the picturesque landscapes, take a hot air balloon ride at sunrise, and unwind in luxurious spas. Sedona's natural beauty and peaceful atmosphere make it an ideal destination for couples.

Bali, Indonesia: Bali's lush landscapes, stunning beaches, and vibrant culture make it a captivating hideaway for couples. Explore ancient temples, indulge in couples' massages, and take long walks on the island's pristine beaches. Bali's romantic charm and exotic ambiance will leave you breathless.

Cinque Terre, Italy: Cinque Terre's colorful cliffside villages and scenic hiking trails offer a romantic escape like no other. Wander through the charming streets of Riomaggiore, Manarola, and Vernazza, and enjoy breathtaking views of the Mediterranean Sea. Cinque Terre's charm and beauty are sure to ignite the romance between you and your partner.

The Maldives: With its crystal-clear waters, white sandy beaches, and luxurious resorts, the Maldives is a paradise for couples. Stay in private villas on the water, enjoy candlelit dinners on the beach, and embark on snorkeling adventures together. The Maldives' secluded beauty and intimate atmosphere make it a perfect hideaway for lovers.

Prague, Czech Republic: Prague's fairytale-like architecture, cobblestone streets, and charming bridges create a captivating atmosphere for couples. Take a romantic boat ride along the Vltava River, visit Prague Castle, and explore the quaint neighborhoods. Prague's romantic ambiance and rich history make it an enchanting destination for couples.
Beyond Ordinary: Mesmerizing Retreats for Adventurous Hearts
Queenstown, New Zealand: Queenstown is a haven for adventure-loving couples. With its stunning landscapes, thrilling activities like bungee jumping, skydiving, and white water rafting, and picturesque hiking trails, Queenstown offers an adrenaline-fueled retreat like no other. Explore the breathtaking beauty of New Zealand while creating unforgettable memories together.

Banff, Canada: Nestled in the heart of the Canadian Rockies, Banff is a paradise for outdoor enthusiasts. Hike through stunning mountain trails, canoe on turquoise lakes, and soak in natural hot springs. Banff's majestic landscapes and thrilling adventures make it a perfect destination for couples with a taste for adventure.

The Swiss Alps: For couples seeking a combination of adventure and breathtaking beauty, the Swiss Alps are a dream come true. Embark on exhilarating hikes, try skiing or snowboarding in world-class resorts, and enjoy stunning views from mountain peaks. The Swiss Alps' awe-inspiring landscapes and thrilling activities are sure to leave you both in awe.

Costa Rica: From zip-lining through the rainforest to surfing on pristine beaches, Costa Rica offers endless opportunities for adventure. Explore active volcanoes, go whitewater rafting, and spot wildlife in lush national parks. Costa Rica's natural wonders and adrenaline-pumping activities make it an ideal retreat for adventurous hearts.

Dubai, United Arab Emirates: Dubai's futuristic architecture, vast deserts, and thrilling activities make it a mesmerizing destination for adventurous couples. Go dune bashing in the desert, skydive over the Palm Jumeirah, and enjoy a romantic dinner in the world's tallest building, the Burj Khalifa. Dubai's blend of modernity and adventure creates a unique and exciting experience for couples.
Destination Romance: Unleashing Passion in Breathtaking Settings
Seychelles: With its pristine beaches, crystal-clear waters, and abundant marine life, Seychelles is a paradise for couples seeking a romantic escape. Stay in luxurious beachfront villas, go snorkeling or diving in vibrant coral reefs, and watch stunning sunsets from secluded coves. Seychelles' natural beauty and secluded atmosphere make it a perfect destination to unleash passion.

Hawaii, USA: Hawaii's stunning landscapes, tropical beaches, and vibrant culture create an ideal setting for couples in love. Explore active volcanoes, take a helicopter tour over lush valleys, and enjoy romantic beach picnics. Hawaii's enchanting beauty and laid-back atmosphere inspire romance and passion.

Amalfi Coast, Italy: The breathtaking Amalfi Coast offers a romantic setting with its dramatic cliffs, colorful villages, and stunning views of the Mediterranean Sea. Take a romantic boat ride along the coast, visit the charming town of Positano, and indulge in delicious seafood. The Amalfi Coast's undeniable charm and beauty will leave you and your partner spellbound.

Maui, Hawaii: Maui's pristine beaches, lush valleys, and picturesque waterfalls make it a perfect destination for couples seeking romance. Take a scenic drive along the Road to Hana, go snorkeling in Molokini Crater, and watch humpback whales during the winter months. Maui's natural beauty and laid-back vibe create an unforgettable romantic experience.

The Great Barrier Reef, Australia: Dive into a world of wonder and passion at the Great Barrier Reef. Snorkel or scuba dive among vibrant coral reefs, encounter colorful marine life, and relax on secluded tropical islands. The Great Barrier Reef's awe-inspiring beauty and biodiversity make it a destination like no other for couples seeking romance.

50 Best Romantic Getaways for a Couples Trip or bike along scenic roads with the person you love for an unforgettable trip Maui is the perfect destination for Couples in search of a 1 Bali Indonesia Bali captivates Couples with its stunning landscapes vibrant culture and spiritual charm Explore the lush rice terraces of Ubud visit ancient temples like Uluwatu and Tanah Lot and relax on beautiful beaches in Seminyak or Nusa Dua25 Unforgettable Adventure Vacations for Couples By VacationIdea Staff on June 28 2023 Updated Southern Ocean Lodge There is nothing like sitting back and relaxing with a view after a day of hiking and exploring the great outdoorsBali Indonesia Getty Images Bali aka the quotIsland of the Godsquot is a versatile haven with something to offer every type of couple If

your version of romance is hiking through lush greeneryBest Cities View All1 in Best Romantic Getaways in the USA Kauai offers many distinct ways for both thrillseeking and sunworshipping Couples to up the romance factor You and your sweetheart can lounge onWater Mill New York Break away from the hustle and bustle of the city at Shou Sugi Ban House Shou Sugi Ban House Say hello to the Hamptons at this serene Japaneseinspired hideaway The Best Luxury Cruise For Couples Silversea Cruises Silver Dawn Best Romantic Cruise For Couples Paul Gaugin Cruises Paul Gauguin Best Cruise For Young Couples Virgin Voyages Resilient Lady
Whether you prefer an enchanting escape, a captivating hideaway, an adventurous retreat, or a breathtaking destination to unleash your passion, there is a perfect destination out there for you and your partner. From the romantic streets of Paris to the mesmerizing landscapes of the Swiss Alps, the world is filled with unforgettable destinations that are sure to create lasting memories for couples. So, pack your bags, hold hands, and embark on a romantic getaway that will ignite the spark and strengthen your bond. Because love, in all its forms, deserves to be celebrated and cherished.