Are you an adrenaline junkie looking for your next heart-pumping adventure? Look no further! We have compiled a list of the world's most thrilling adventure sports hotspots that will leave you breathless and craving for more. From skydiving to bungee jumping, these destinations are sure to satisfy even the most daring daredevil. So buckle up and get ready to embark on the adventure of a lifetime!
Buckle Up: Uncover the World's Adrenaline-Fueled Havens!
Queenstown, New Zealand: Nestled amidst the breathtaking landscapes of New Zealand, Queenstown is renowned as the adventure capital of the world. With activities like bungee jumping, skydiving, and jet boating, this haven is perfect for those seeking an adrenaline rush amidst stunning natural beauty.

Moab, Utah, USA: Moab is a paradise for outdoor enthusiasts, offering a wide array of adventure sports. From white-water rafting on the Colorado River to mountain biking through the rugged terrain of the famous Slickrock trail, this desert oasis will surely get your heart pounding.

Interlaken, Switzerland: Surrounded by the magnificent Swiss Alps, Interlaken is a playground for adventure seekers. Try your hand at paragliding, canyoning, or even taking a thrilling ride on a helicopter tour. With its stunning scenery, Interlaken is a must-visit destination for adrenaline junkies.

Cape Town, South Africa: Cape Town not only boasts stunning natural beauty but also offers a wide range of adventure activities. Surf the famous waves of Muizenberg, dive with sharks in False Bay, or go sandboarding on the dunes of Atlantis. With its diverse experiences, Cape Town is an adventure sports hotspot not to be missed.

Rotorua, New Zealand: Known for its geothermal wonders, Rotorua is also a prime spot for adrenaline-fueled activities. Experience the thrill of zorbing, luging, or white-water rafting, all while surrounded by stunning volcanic landscapes. Rotorua is sure to provide an unforgettable adventure.
Rush Hour: Unleash Your Inner Daredevil at These Ultimate Spots!
Chamonix, France: Nestled in the heart of the French Alps, Chamonix offers an adrenaline-pumping playground for extreme sports enthusiasts. From skiing down the legendary Vallée Blanche to ice climbing the towering glaciers, this mountaineer's paradise is not for the faint-hearted.

Cairns, Australia: Cairns is a haven for water sports enthusiasts, as it sits on the doorstep of the Great Barrier Reef. Dive into the crystal-clear waters to explore vibrant coral reefs, go white-water rafting on the Tully River, or try your hand at parasailing high above the stunning coastline. Cairns will leave you exhilarated and wanting more.

Whistler, Canada: Known for its world-class ski slopes, Whistler is an adventure sports hotspot that offers thrills year-round. During the winter months, hit the slopes for some adrenaline-fueled skiing or snowboarding. In the summer, experience the rush of mountain biking, zip-lining, or tackling the exhilarating bobsled track.

Bali, Indonesia: Beyond its serene beaches and lush landscapes, Bali hides a plethora of adventure sports activities. Challenge yourself by white-water rafting through the rapids of the Ayung River, go canyoning in the stunning canyons of Gitgit, or try your hand at cliff jumping in Nusa Penida. Bali truly has something for every adventure seeker.

Queenstown, New Zealand: Yes, Queenstown deserves another mention as its offerings are simply too good to overlook. Here, you can also indulge in activities like canyon swinging, heli-skiing, or jet boating through narrow canyons. Queenstown is a mecca for adrenaline junkies and continues to attract thrill-seekers from all corners of the globe.
Thrills Galore: Prepare for the Adventure of a Lifetime!
Embarking on an adventure sports vacation is like stepping into a world where exhilaration knows no bounds. From breath-taking landscapes to heart-pounding activities, these adrenaline-fueled havens have something for everyone. So, pack your bags, strap on your gear, and get ready to experience the thrill of a lifetime. Whether you're a seasoned adrenaline junkie or someone looking to step out of their comfort zone, these destinations will not disappoint.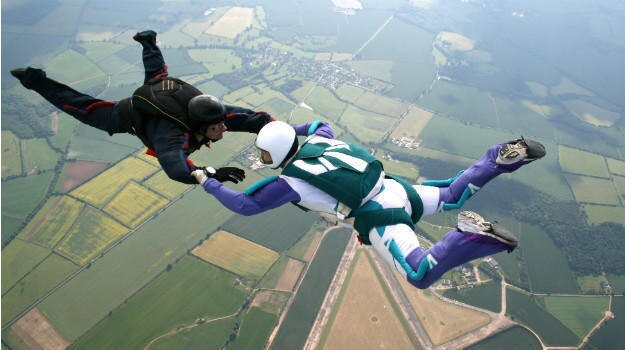 50 Best Adrenaline Activities for Thrillseekers September 22 2021 If you are a thrillseeker youve come to the right place Weve put together the 50 best adrenaline activities to do around the world so you can test your limits Read on enjoy and get ready to live life on the edge again 1 Ice cross kartingScott Snowden Wednesday April 5 2023 Extreme adventurers come in all shapes and sizes There are gems that take loads of planning like scaling a mountainside in Yosemite National Park and those1 Underground Zip Lining Louisville KY Zip lining in a cave Who knew This unique attraction at Louisville Mega Cavern happens in a 100acre manmade former mine tucked underneath the1 Bungee Jumping Tie a rope around your waist trust that it will save you and jump from a cliff shouting your lungs out
Seems enough adventure to satisfy your soul It surely is Give it a shot and experience the ecstasy for yourself Bungee Jumping 2 SkiingCulture Trips are deeply immersive 5 to 16 days itineraries that combine authentic local experiences exciting activities and 45 accommodation to look forward to at the end of each day Our Rail Trips are our most planetfriendly itineraries that invite you to take the scenic route relax whilst getting under the skin of a destinationAdventure and Sports Tourism Thrills amp Adrenaline For adrenaline Junkies and adventure seekers sports tourism hotspots around the globe offer a range of thrilling activities in diverse landscapes Destinations like Queenstown New Zealand are renowned for adventure sports such as bungee jumping whitewater rafting and skydivingRoam
Ready No views 2 minutes ago Welcome to our channel where we bring you the ultimate adventure hotspots from around the world In this exhilarating video we39ll take you on a journey toNew Zealand is perfect for adrenaline Junkies New Zealands waterfalls and natural beauty are perfect for adrenaline Junkies Known for its beautiful landscape prestigious rugby team and the sheer amount of sheep thrill seekers are also spoiled for choice in New Zealand
As the world's adventure sports hotspots continue to beckon, it's important to remember to prioritize safety and follow the guidance of experienced instructors. Whether you're free-falling from the sky or conquering mountain peaks, always ensure you have the necessary equipment and knowledge to enjoy your adventure to the fullest. So, embrace your inner daredevil, explore these thrilling destinations, and create memories that will last a lifetime. Adventure awaits!